Steel Girder/ROB/Foot Over Bridge/ Metro Stations
The use of Plate Girders gives scope to vary the girder sections to suit the loads carried at different positions along the bridge. The designer is free to choose the thickness of web and size of flange to suit the internal forces at different positions along the length of the span, though it must be remembered that too many changes may not lead to economy, because of the additional fabrication work. Splices are expensive, whether bolted or welded. Often, the girders have parallel flanges, that is, they have a constant depth. However, with plate girders, the designer can also choose to vary the depth of the girder along its length. For longer spans it is quite common to increase the girder depth over intermediate supports. For spans below about 50m, the choice (constant or varying depth) is often governed by aesthetics. Above 50m, varied depth may offer economy because of the weight savings possible in mid span regions. The variation in depth can be achieved either by straight launching (tapered girders) or by curving the bottom flange. The shaped web, either for a variable depth or constant depth girder with a vertical camber, is easily achieved by profile cutting during fabrication. Generally, webs have a high depth/thickness ratio and this leads to the need for intermediate transverse web stiffeners in regions of high shear (near supports)
AT Goodluck we have fabricated over 10000 MT of Steel Plate girders for the following applications
Road Over Bridges from Spans 5 mtr to 49.5 mtrs
Railway Over Bridges from Spans 5 mtr tov 49 mtrs
Foot Over Bridges of Spans 30 mtrs to 40 on railway stations and roads
Link Bridges for Metros
Primary Structures like Crane Beams and Buck Stays. Composite Plate Girders made of Special Steels of grade 250 and 350 C and 410 B0 with impact values of 54 Joules at Minus 20 Deg C.
Normal Plate Girders of RDSO Spans of Raw Material Grade 350 B0 are regularly being used.
Our Supplies include topographies of altitude above 2500 mtr from Sea level and across river Roads Over Bridges have been supplied over canals and viaduct.
Open Web through Truss Bridges
Following Open Web Through Truss Girders are designed by RDSO
Open Web Girders (B.G)
Open Web Girders (M.G)
Open Web Girders (Welded)
Open Web Girders are light weight and the latest in technology of Girders using less steel weight yet absorbing double axle loads for MBG loading. At Goodluck India we have fabricated more than 30 spans of OWG for spans ranging from 31 mtrs to 63 mtrs.
We at Goodluck have expert manpower and machinery to achieve perfectness in the component fabrication of OWG - like Bottom Chord and Top Chord straightness and Correctly aligned Stringers and Verticals. Our Expertise is in providing right fit and camber correct OWG. Same is verified at trial assembly at our works . A large trial assembly area makes us capable to hold spans upto 100 mtrs.
Bow String Girders We have Orders for 10 Bow strip girders to be supplied and erected . We have expertise to fabricate bolted and welded designs from our workshop, Our Expert erection team can execute critical projects which require site welding of sections
Bow String Steel Girder
As a reputable steel girder manufacturer, we take pride in offering innovative solutions for bridge construction projects.
Our expertise lies in crafting bowstring steel girders, a distinct and efficient structural system that combines strength, stability, and aesthetic appeal.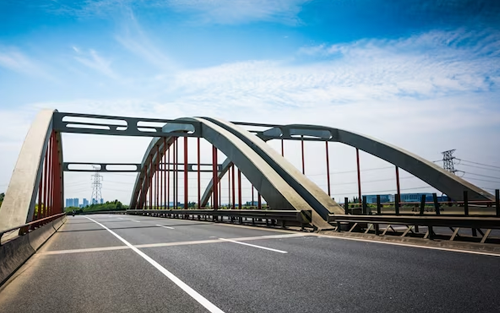 Riveted Bow string Girder
Embodying the legacy of bridge-building craftsmanship, our riveted bowstring girders showcase classic charm and historical significance.
Each riveted connection is meticulously crafted, reflecting the artistry and attention to detail of the past.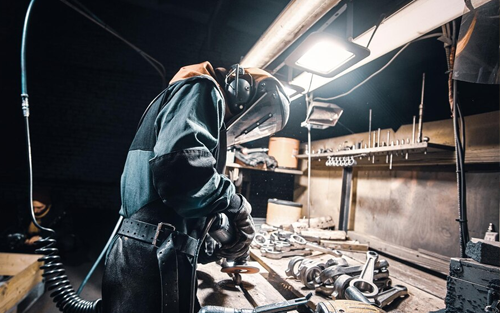 Welded Bow string Girder
Leveraging cutting-edge welding techniques, our welded bowstring girders exemplify modern engineering standards.
Welded connections ensure superior structural integrity, durability, and ease of fabrication, reducing maintenance costs over the bridge's lifespan.
Uses
Our bowstring steel girders find versatile applications in bridge projects, catering to various transportation needs
Long Span BridgesFor projects requiring long spans, our bowstring girders deliver optimal load distribution and minimize deflection, ensuring robust and stable structures.
Highway OverpassesConstructing lightweight and durable highway overpasses is made possible with our bowstring girders, providing efficient load-bearing capabilities.
Railway ViaductsWe provide the strength and reliability needed for railway viaducts crossing vast distances and challenging terrains, ensuring safe and smooth train passage.
Advantages
Seamless AestheticsOur bowstring girders deliver an elegant, arching profile that enhances the bridge's visual appeal, adding value to the surrounding landscape.
Optimized Load DistributionThe arched design efficiently distributes loads along the span, reducing stress concentrations and enhancing overall structural performance.
Stability and DurabilityOur girders are engineered for inherent stability, minimizing the need for additional bracing and ensuring long-lasting, resilient structures.
Prefabrication ExcellenceWe excel in off-site prefabrication, enabling streamlined assembly, faster construction, and reduced on-site disruption.
Challenges
Precision FabricationOur skilled team embraces the challenges of crafting precise bowstring girders, ensuring each piece meets exact specifications for a seamless fit during assembly.
Efficient Transportation and ErectionWe employ meticulous planning and cutting-edge equipment to overcome logistical challenges during transportation and erection, ensuring efficient project execution.
In summary
our bowstring steel girders embody a perfect blend of tradition and innovation, making them an ideal choice for your bridge construction projects. As a manufacturer committed to quality and craftsmanship, we offer reliable solutions that exemplify engineering excellence, durability, and captivating aesthetics.